Green Cards & Permanent Residency
Baltimore Attorneys Assisting with Green Cards
Helping Clients Seek Permanent Residency through Green Cards
A green card allows one to live and work in the United States permanently. You can apply for legal permanent residency through different paths, including employment, family sponsorship, the diversity lottery, and other options.
At Griffith Immigration Law, we help individuals from all walks of life migrate and live in the United States. We recommend you discuss your immigration needs with one of our experienced Baltimore lawyers for green card applications and renewals. We can help you understand U.S. immigration law to determine the best pathway to your permanent residency status.
Book your consultation with a Baltimore green card attorney by contacting Griffith Immigration Law at (410) 883-9157. Hablamos español.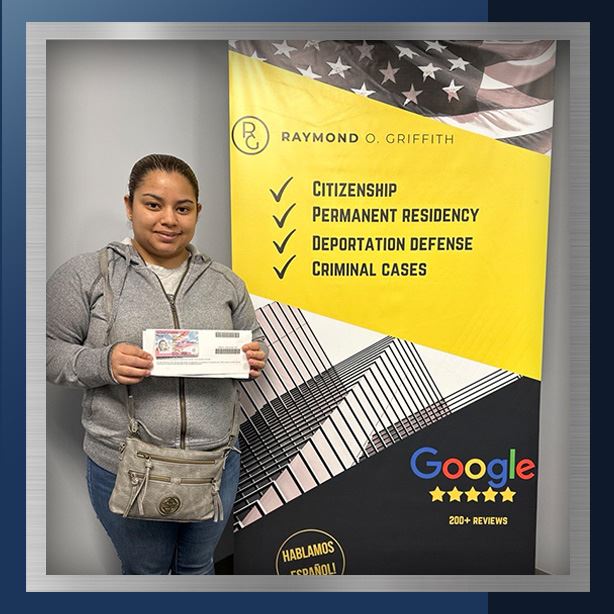 Benefits of Green Cards
Legal status through a green card gives you the following benefits:
A green card allows you to stay in the U.S. permanently, hence why it's called permanent resident status
You can travel and return to the country freely
A green card will provide you with the ability to work anywhere in the United States
It's an essential step for citizenship and naturalization
You'll be able to apply for family visas, allowing you to bring your family to the United States
The Application Process
Navigating the green card application process can be daunting, with its extensive paperwork, strict deadlines, and complex legal requirements. With our help, we can guide you through each stage, helping you compile all necessary documentation, complete the forms accurately, and prepare you for interviews with the U.S. Citizenship and Immigration Services (USCIS).
Green Card Renewal
Green cards expire. They are typically valid for up to 10 years. You must provide a valid, unexpired card whenever you're asked to prove your residency status.
While your permanent residency status does not expire, the card that proves your permanent residency does expire and needs to be renewed. The renewal process should be initiated well in advance of your green card's expiration date. It is recommended to start the renewal process approximately six months before your green card expires.
Overcoming Obstacles in the Green Card Process
If you have encountered previous immigration issues or face potential obstacles in your application, don't lose hope. Our dedicated team has extensive experience handling complex cases through waivers, appeals, and other legal remedies. We will fight to advocate for your rights and help you in seeking to overcome any possible barriers.
Get the help you need for green card applications or renewals in Baltimore by contacting Griffith Immigration Law today.
"Very Satisfied"

Raymond Griffith was very attentive... I left the consultation with a clear vision of what steps to take next. Very satisfied.

- Elmar M.

"Great Job"

Great job helping me through my immigration process. He is always ready and available to address any questions or concerns.

- Ardita E.

"A Genuis and Very Genuine"

Professional, responsive, knowledgeable, smart, and very affordable... he is a genius and very genuine.

- Mildred A.

"I Got My Citizenship"

Attorney Griffith is the best immigration lawyer in the Baltimore area. And today, with his help, I got my citizenship.

- Phuoc N.

"HIGHLY Recommend!"

They are just so great! I am really thankful to find them.

- Rachel C.

"A True Expert!"

He listened intently to my questions and explained the issues to me in a clear manner without condescension or judgment.

- Roma A.

"Impeccable Integrity"

They are wonderful people, with impeccable integrity, who truly care and they did exceptional work.

- Jay S.

"5 Stars is Not Enough"

Why am I giving a 5-star review? That's only because I can't give any more stars to Mr. Raymond Griffith and his team.

- Franco P.