Petition for a K1 Visa in Baltimore
Achieve Permanent Resident Status for Your Fiancé(E)
Contact Our Immigration Attorneys
The Law Office of Raymond O. Griffith is here to provide complete assistance for couples trying to achieve their K1 visa in order to bring their fiancé(e) into the United States. If you need help navigating this complex process, our Baltimore-based immigration lawyers are here and ready to help.
In order to successfully petition for a K1 Visa, the U.S. Petitioner must:
Intend to marry within 90 days of acceptance.
Have met their fiancé(e) in person in the last two years.
Be legally cleared to marry another individual.
Be a United States citizen.
Meet minimum income requirements.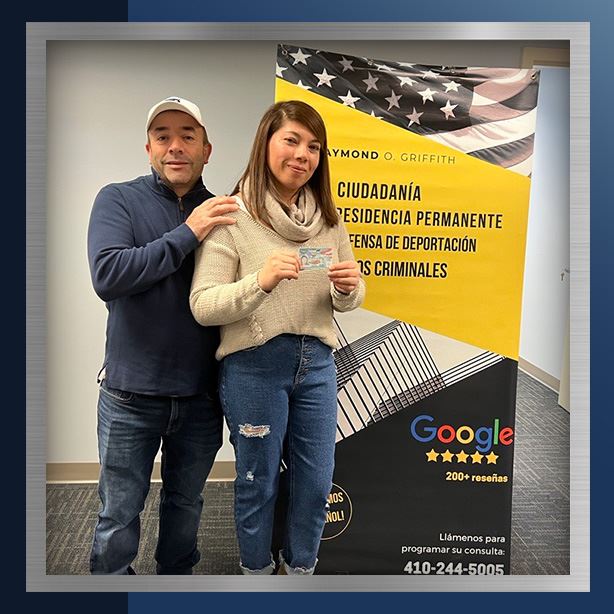 Applying for a K-1 Visa
An American begins the process of petitioning a foreign fiancé(e) by filing a form I-129F with United States Citizenship and Immigration Service (USCIS).
Once a visa petition has been filed and approved, the USCIS service center sends it to the National Visa Center of the State Department, which in turn forwards it to the Embassy or Consulate nearest the foreign fiancé(e). The Embassy or Consulate will notify the foreign fiancé(e) that a petition has been received, and will provide information about how to schedule a medical exam with the panel physician as well as how to schedule an appointment for a visa interview at the Embassy.
At the visa interview, a Consular officer reviews the documents that both the American petitioner and the foreign fiancé(e) have submitted. The Consular officer looks for evidence of a relationship and asks the foreign fiancé(e) questions to determine that a bona fide relationship exists. Typically, Embassies request that fiancé(e)s bring evidence of their relationship to the interview, such as photographs together, correspondence between the two, evidence of remittances to the fiancé(e), phone bills showing calls to each other, etc.
Once the interview is finished, the Consular officer can issue the K1 visa, if he is convinced of a bona fide relationship that meets all legal requirements. The officer may also request that further evidence be submitted before making a decision.
Requirements for a K-1 Visa
The affianced must be eligible to be lawfully married in the state of residence of the petitioner. For example, at the time the visa petition is filed, as well as at issuance, they must both be of legal age, and not already married to each other or to anyone else. Some individuals are ineligible for any immigrant visa, such as those with certain untreated communicable diseases, those who have committed crimes of moral turpitude, those who are addicted to illegal drugs, persons who were previously deported from the US, and so on.
The affianced must have met in person at least once within two years prior to filing the visa petition. This requirement may be waived by the Department of Homeland Security, but only for cases such as strong cultural or religious traditions that preclude such a meeting.
Visa applicants are required to demonstrate to the Consular officer that they are unlikely to become public charges in the United States. Generally, this is accomplished by the petitioner filing an Affidavit of Support.
The Law Office of Raymond O. Griffith will help you reunite with your future spouse here in the U.S. Our immigration lawyers in Baltimore have the experience to navigate you through the process of achieving a K-1 visa. Contact us online to learn how we can help.
If you need an experienced immigration lawyer for an emergency situation or for general information, contact me now.
"The Best!"

This dynamic law firm is undoubtedly the best in the United States.

- KerryAnn J.

"Impeccable Integrity"

They are wonderful people, with impeccable integrity, who truly care and they did exceptional work.

- Jay S.

"I Am Now A Citizen!"

We were extremely pleased with the professionalism and attention provided.  I am happy to say that I am now a US citizen.

- Jenny R.

"He Is A Genius!"

To Mr. Griffith and his amazing team... thank you so much for going above and beyond! HE IS A GENIUS!!!!!

- Sim R.

"Professionalism, Responsiveness, Knowledgeable"

We were provided with the utmost kindness, professionalism outstanding customer service.

- Lazina A.

"Above and Beyond"

Wow! This is a great law firm for your immigrant needs. They are so professional and helpful. Mr. Griffith goes above and beyond.

- Lola A.

"Incredibly Responsive"

Mr. Griffith and his team are amazing!! I have never texted or emailed a business and gotten such quick responses.

- Sandrene M.

"Great Team"

The whole staff there is great, from the secretary to Mr. Griffin himself. Thank you so much for your hard work.

- Jonathan T.