Citizenship & Naturalization
Baltimore Citizenship & Naturalization Lawyers
Achieve Your Dream of Becoming a U.S. Citizen
Many immigrants aim to become a citizen of the United States. Doing so allows you to enjoy tremendous rights, benefits, and privileges. Thousands of immigrants become U.S. citizens every year via the naturalization process, with the crowning achievement of taking their oath of allegiance to the U.S. This takes place in the traditional ceremony that formally completes the naturalization process.
Many ways are available to become naturalized in the United States, and our skilled immigration attorneys can help. With more than 20 years of experience and tens of thousands of satisfied clients, Griffith Immigration Law is dedicated to helping you reach your immigration dream of citizenship.
Request a confidential consultation with a Baltimore naturalization and citizenship attorney by contacting us via email or at (410) 883-9157. Hablamos español.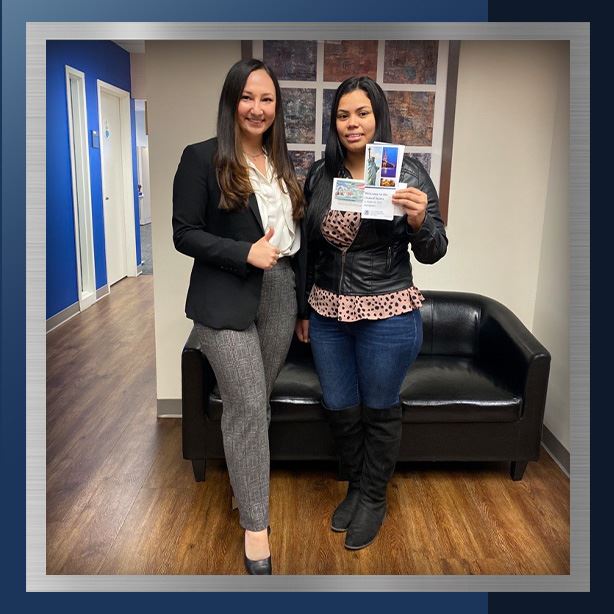 The Importance of Legal Representation
While navigating the naturalization process without legal representation is possible, having a naturalization lawyer by your side can offer numerous benefits. Our lawyers at Griffith Immigration Law will ensure that your application is completed correctly, accurately filed, and submitted within the required timeframe.
We can guide you throughout the process and mitigate the risk of errors or omissions that could delay or jeopardize your application.
Furthermore, our team can help you prepare for the naturalization interview and test, providing personalized advice and support tailored to your unique circumstances. We can address any concerns or questions, increasing your chances of success.
The naturalization process is a significant milestone on the path to U.S. citizenship. By partnering with our trusted attorneys, you can streamline the process, alleviate stress, and maximize your chances of a successful outcome.
Seek the Benefits of Citizenship with the Help of Griffith Immigration Law
The benefits of being a U.S. citizen include voting rights, freedom from deportation, the privilege of sponsoring certain family members, the ability to travel freely around the world, eligibility for a more comprehensive array of government benefits, and access to a broader range of employment opportunities and career advancement.
Citizenship laws have evolved. You may need to research the appropriate law that allows your eligibility. Becoming a citizen of the U.S. can be a complicated process to navigate. That is why you need an experienced immigration lawyer to guide you.
Griffith Immigration is a respected immigration law firm in Baltimore. We can provide you with the necessary assistance, advice, and processes you need to take on your path to becoming a U.S. citizen.
Contact us at (410) 883-9157 to get started today.
"Oustanding Team"

The office of Raymond Griffith has an outstanding team, very helpful and professional.

- Florentino R.

"Patient, Respectful & Kind"

Ray and his team are extremely knowledgeable, well-organized, and really set our minds at ease with their level of expertise.

- Wendy M.

"Incredibly Responsive"

Mr. Griffith and his team are amazing!! I have never texted or emailed a business and gotten such quick responses.

- Sandrene M.

"HIGHLY Recommend!"

They are just so great! I am really thankful to find them.

- Rachel C.

"Forever Grateful"

The experience was amazing, great service... I will forever be grateful to this law firm.

- Laura S.

"I Am Now A Citizen!"

We were extremely pleased with the professionalism and attention provided.  I am happy to say that I am now a US citizen.

- Jenny R.

"Great to Work With"

He always answered the phone when I called, and he is great to work with.

- Nabli M.

"Very Satisfied"

Raymond Griffith was very attentive... I left the consultation with a clear vision of what steps to take next. Very satisfied.

- Elmar M.