IMMIGRATION CONSULTATION IN BALTIMORE
The current climate of immigration law is complex and ever-changing, making it essential for individuals and families seeking to become permanent residents within the United States to find a trusted source for legal guidance. If you're in need of legal assistance in the Baltimore area, our law office, composed of immigration lawyers with immigrant roots, is ready and available to help.
Our team focuses on the consultation process to help immigrants understand exactly where and why they stand in their unique situation. Getting out ahead of these immigration issues is very important to becoming a resident or eventual citizen of the United States, whether you need help with ICE, green card renewal, or deportation defense, contact us as soon as possible schedule your consultation!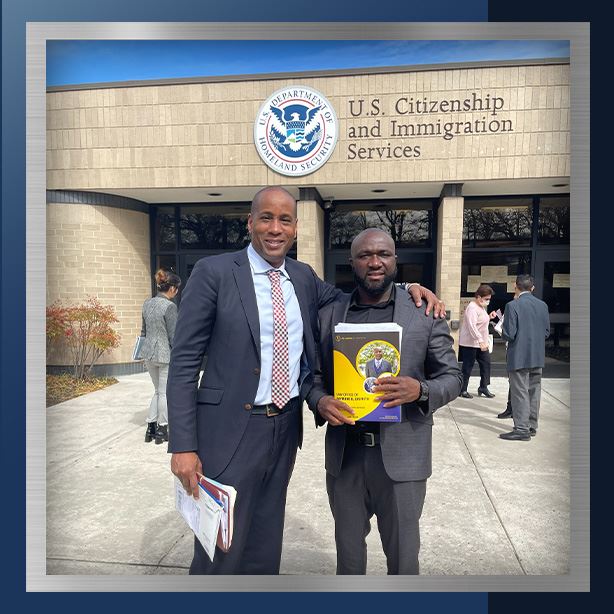 Three Reasons to Schedule Your Consultation
The Law Office of Raymond O Griffith is here to help our clients understand the value of professional immigration lawyers. We offer our consultation services to help people in need, and feel this service is beneficial for three main reasons:
1 – LEGAL CHECKUP
Similar to a health checkup, it can prove vital to schedule a consultation with an immigration attorney. Doctors and lawyers perform essentially the same function when diagnosing your unique situation. Your immigration lawyer (legal doctor) will evaluate your case and listen to your needs, taking careful notes to assess where you currently are and where you want to end up in terms of residency and citizenship.
Once our team has gotten to know you, we'll provide a blueprint or roadmap to assist you in moving forward. Our team of immigration attorneys is here to help! WE'RE CHANGING CLIENTS' LIVES
Reviews & Testimonials
We prioritize your experience, and it shows in our reviews. Read through some of our five-star testimonials or get started today by calling (410) 883-9157.
"Above and Beyond"

Wow! This is a great law firm for your immigrant needs. They are so professional and helpful. Mr. Griffith goes above and beyond.

- Lola A.

"The Best!"

This dynamic law firm is undoubtedly the best in the United States.

- KerryAnn J.

"5 Stars is Not Enough"

Why am I giving a 5-star review? That's only because I can't give any more stars to Mr. Raymond Griffith and his team.

- Franco P.

"Impeccable Integrity"

They are wonderful people, with impeccable integrity, who truly care and they did exceptional work.

- Jay S.

"I Feel Comfortable With Them"

Mr. Griffith and his team are really amazing... everyone in the office is really nice, kind and efficient.

- Hiba N.

"Patient, Respectful & Kind"

Ray and his team are extremely knowledgeable, well-organized, and really set our minds at ease with their level of expertise.

- Wendy M.

"A Team Cheering Me On"

This team was very supportive and ensured I was fully prepared... I felt I had a team cheering me on from start to finish.

- Christan B.

"Professionalism, Responsiveness, Knowledgeable"

We were provided with the utmost kindness, professionalism outstanding customer service.

- Lazina A.

See What Sets US Apart
Changing Your Status Can Change Your Life
Immigrants Serving Immigrants

Everyone you'll interact with at our firm has an immigration experience of their own, and we're passionate about helping you with your immigration needs.

Client-Focused Service

Our team prioritizes you; we're dedicated to keeping current with changing immigration laws, citizenship application requirements, and procedures.

Caring, Comfortable, Confidential

We'll be with you every step of the way through this legal process, and we'll fight for your rights and find a solution.

Offering Virtual Consultations

You don't need to come to our office. We can meet virtually to help make the process a little easier for you.