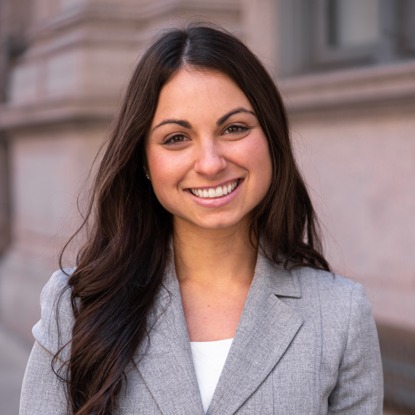 Halle Blitzstein
Senior Law Clerk
Bio
Halle was born and raised in the Pikesville area of Baltimore County, Maryland. She attended James Madison University in Harrisonburg, Virginia where she graduated with an undergraduate degree in Psychology. Upon graduation, Halle attended the University of Baltimore School of Law, and she graduated in May of 2022.  While in law school, Halle volunteered for the Innocence Project Clinic, where she fought to find justice for those wrongfully convicted.  
Halle is the granddaughter of immigrants from Venezuela. Her great-grandmother was the oldest person to become a naturalized United States Citizen in the year of 1993. Halle is dedicated to helping others from all over the world by defending against deportation, seeking permanent residency, and applying for citizenship in the United States.  
At Griffith Immigration Law, Halle works as a Senior Law Clerk in the litigation department, where she focuses on Asylum and Withholding of Removal cases, as well as all other aspects of removal defense before the Immigration Court. She also handles mandamus lawsuits to assist clients who are facing long application processing times. 
Outside of the courtroom, Halle is a classically trained artist. She also enjoys spending time with her friends and family and loves taking her dogs hiking and on long walks around the harbor.