Immigration is a popular topic of discussion, regardless of your views. However, most people don't understand the "why" behind immigration, or why these people might be moving to the United States in the first place. There are many different reasons why an individual or a family may choose to immigrate to a new place. In today's post, we will discuss five of the most common reasons why people choose to immigrate to the United States.
If you or your family is considering immigrating to the U.S., or you've already immigrated and you're looking to obtain citizenship, our team at the Law Office of Raymond O. Griffith is here to help. We have years of experience working with immigrants from all over the world, and we specialized in a variety of areas, making it easy for us to help as many people as possible. You deserve your chance at freedom, so contact our immigration lawyers in Baltimore to get started today.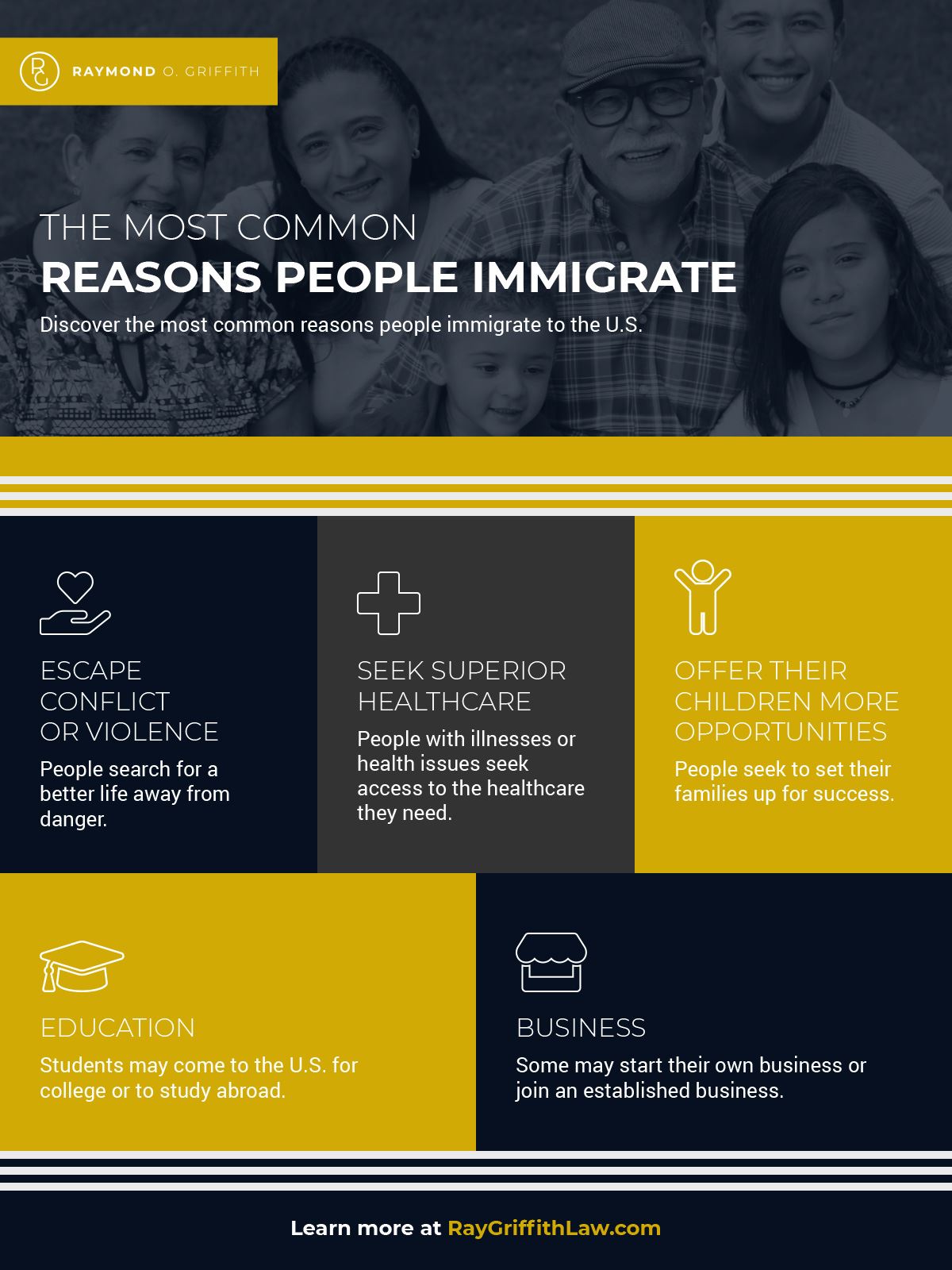 Escape Conflict or Violence
Many parts of the world, outside of the United States, there is war and chaos. Countries are at war, and many people are living in fear. Because of this, it's only natural that individuals and families may try to seek safety in another country, which is why they choose to immigrate to the United States. In these other countries, people may be facing extreme danger or dire conditions. Instead of trying to make due in a place of terror, they escape and look for a place where they have a chance of having a better life.
Seek Superior Healthcare
In addition to living in countries that are filled with war and danger, many of these same countries do not have the proper healthcare that people need. Additionally, even if the country does have healthcare in some form, not everyone in the country may have access to it, especially if there are a limited number of doctors or trained medical professionals. For this reason, if an individual is struggling with a serious illness or another health problem, they may immigrate to the United States in hopes of accessing the care that they need.
Offer Their Children More Opportunities
For most residents living in the United States, it's easy for people to go to school and to get a stable job. However, that isn't the case in all other countries. Some parents may not be able to make enough money to feed their children, or they may not be able to afford to send their children to school, if there is even a school nearby. By immigrating to the United States, many parents believe they will be able to provide their children with more opportunities than they themselves had. As a result, the children will be able to grow up and find stable jobs and provide even more opportunities for their own children. In a way, immigrating can help families start over and set their future generations up for success.
Education
While healthcare, opportunity, and avoiding conflict may be at the top of the list in regards to reasons people immigrate to the United States, another common reason that is often overlooked is education. Not everyone immigrating to the U.S. is an adult or a child. In fact, many immigrants are students who want a better education. These may be 0students who want to go to school in the United States for a year or a semester, or they may be college students who want to attend one of the many great universities in the country.
Business
Parents may migrate to the U.S. in search of better opportunities for their children, and at the same time, they may also be looking for better opportunities for themselves. Additionally, there may be some individuals who are thinking about their future families, and they may decide to immigrate for economic opportunity or the chance to either start their own business or become part of an already established business. In order to come to the United States for business, individuals will need to obtain a business visa that will allow them to work within the U.S. until they are able to gain citizenship, making them a legal resident of the United States.
Interested In Learning More?
These are just a few of the reasons why an individual or a family may decide to immigrate to the United States. However, there are many different reasons and scenarios, and the decision to immigrate depends on the individual.
At the Law Office of Raymond O. Griffith, we are dedicated to helping immigrants from all over the world find the opportunities and life they want in the United States. If you are considering immigrating here and you would like some more information or you've already moved to the U.S., don't hesitate to reach out to our team of immigration lawyers in Baltimore. In the meantime, continue to explore our website to learn more about our services, and when you're ready, schedule a consultation.
The post The Most Common Reasons People Immigrate appeared first on Law Office of Raymond O. Griffith.